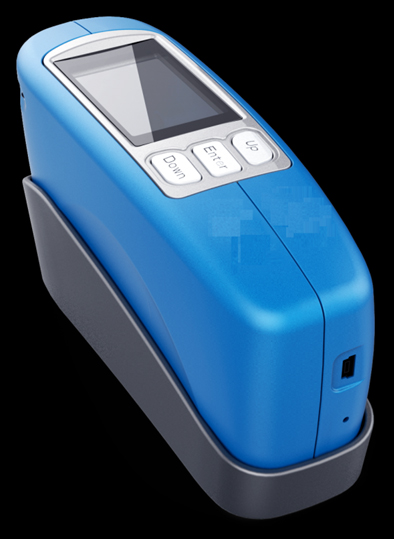 The battery-operated gloss meters measure the gloss of a surface at different angles. Gloss is measured by reflection of the light beam falling on a surface. It is determined by the ratio of the strength of the reflected light from the point of impact on an internal reflecting plate. The gloss tester can be used on all smooth surfaces, e.g. stone, wood, laminate, rubberfloors, etc.
According to the standard, the gloss value on a glass surface with a specified calculation coefficient of 1,567 should have the reference value of 100 as the output or display on the gloss meter. A blackglass plate with a gloss value of 90 at 60° measurement and 84 at 20° measurement is used as reference for calibration.
Ideally, gloss meters are suitable for on-site measurements and are particularly popular with field staff who carry out control measurements at their customers' premises.
| | |
| --- | --- |
| Measuring angle: | 20°,60°, 85 |
| Illuminated area: | 20°: 10 x 10 mm |
| | 60°: 9 x 15 mm |
| | 85°: 5 x 38 mm |
| Measuring range: | 20°: 0-2000 GU |
| | 60°: 0-1000 GU |
| | 85°: 0-160 GU |
| Accuracy: | 0-100GU: 0.1 GU |
| | >100GU: 1 GU |
| Repeatability: | 0-100GU: 0.2 GU |
| | >100GU: 0.2 % GU |
| Measuringtime: | < 1 s |
| Memory: | 100 standards, 1000 tests |
| Language: | English |
| Battery: | enough for 50000 measurements |
| Special feature: | in sensitive to vibrations |
| Connections: | USB, Bluetooth optional |
| Weight: | 400 g |
---