Y-Cable Tension Device
For Over wires of High Speed Trains

The Y-Cable Tensioning Device was developed about 20 years ago in collaboration with ABB Henschel. It was destined for the tension of ICE over wires in Germany.
Meanwhile, the Tiedemann Y-Cable Tensioning Device is used worldwide for the overhead lines, most recently, especially in China. To date, nearly 1000 units of our Y-Cable Tensioning Devices have been sold.
The tool is placed on one of the cables and will be connected via a come along clamp with this cable. The second cable is passed through the Y-Cable Tensioning Device and held by another come along clamp. The cable tension will be reached via the clamping jaws connected to the dynamometer, which shows the reached tension, connected to the tensioning screw for exact tension adjustment.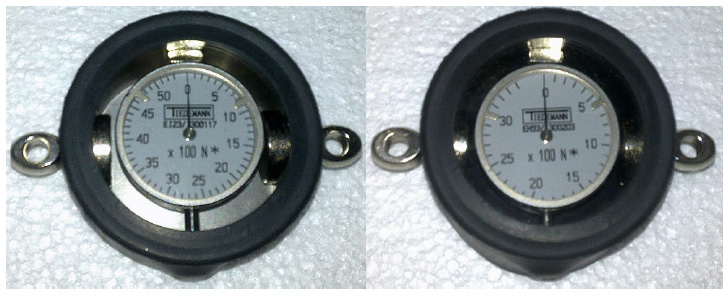 Technical Data
Y-Cable Tensioning Device
Clamping jaws: Cross section: 6 - 35 mm²
Cross section 16 – 70 mm²
Tool material: Aluminum
Rolls: plastic
Tensioning screw: Steel, M12 for screw wrench 19
Dynamometer
Special dynamometer, built-in between two arms. The display corresponds to the cable tension force. Other dynamometer forces are possible.
Dynamometer: for tensile forces, specially designed for the Y-Cable Tensioning Device with 5kN und 3.5 kN scale
Material: high strength steel
Fracture load: 1.2 x FS
Indicator: adjustable but stiff because of construction use
Accuracy: < 0.3 % FS
Size : diameter 75 mm, width 40 mm
Drawbar eye hole: diameter 6 mm
Protective cover: ABS plastic- rubber cover – polycarbonate window