Colour Testing Systems
Bench-top Spectrophotometer C-820N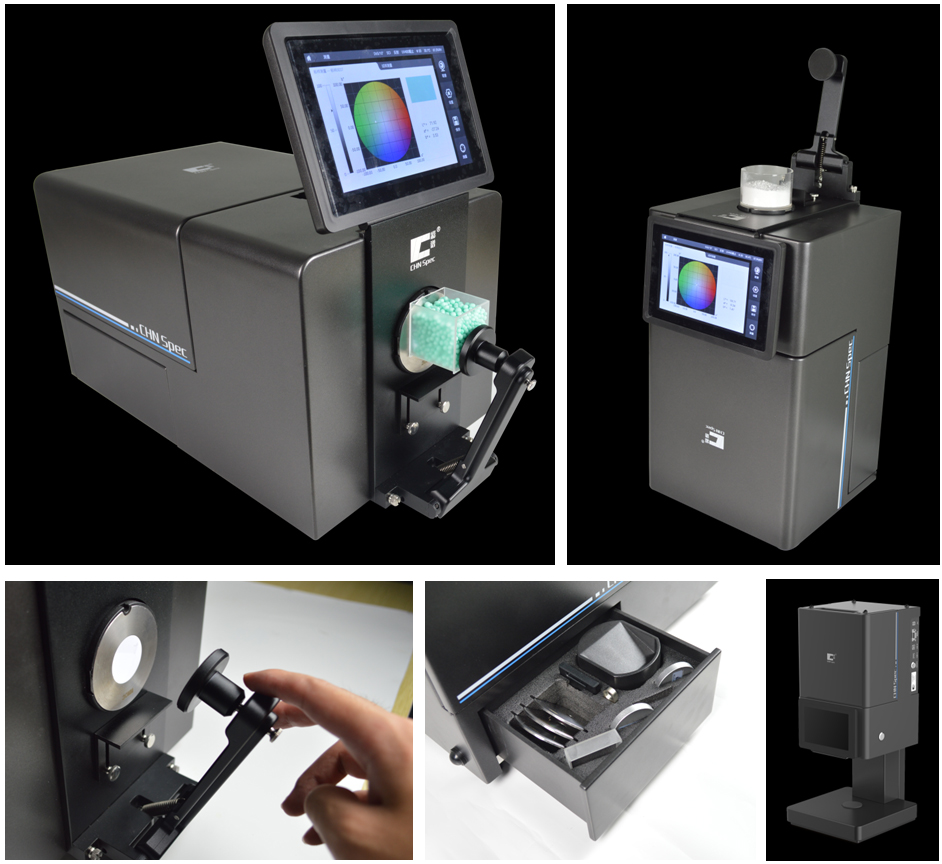 Technical Data
| | |
| --- | --- |
| Measuring principle: | sphere geometry, ball diameter 152 mm |
| Measurements: | Reflection, transmission, SCI, SCE and SCI/SCE simultaneously |
| Standards: | DIN 5033/7, ISO 7724/1, CIE No. 15, ASTM E1165, JIS Z8722 |
| Wavelengths: | 360-780 nm |
| Δ Wavelength: | 10 nm |
| Resolution: | 0,01 %. |
| Repeatability: | 0.015 % standard deviation |
| Lighting: | pulsed xenon lamp and LED |
| Sample size: | unlimited, thickness< 50 mmSCI/SCE |
| Sample intake: | can be carried out in different positions of the instrument |
| Screen: | Colourscreen 7" |
| Programming languages: | German, English |
| Connections: | 12 V power supply, USB, RS-232 |
| Memory: | 8 GB |
| Dimensions: | 465 x 240 x 260 mm |
| Weight: | 10,8 kg |
Bench top Spectrophotometer CS 820N
Manual Video
Bench top Spectrophotometer CS 820N
---
Portable Spectrophotometer CS-520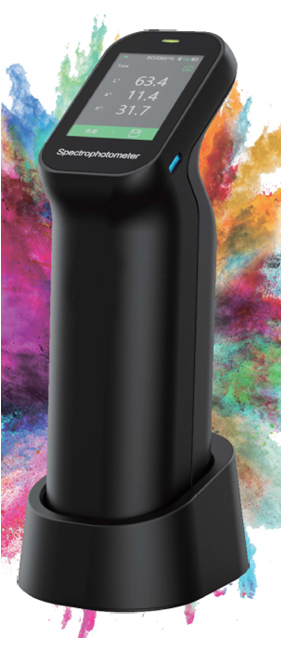 Technical Data
| | |
| --- | --- |
| Measuring principle: | D/8, SCI/SCE (diffuse illumination, 8° spectral illumination included), sphere diameter 40 mm |
| Measuring angle: | 2°, 10 |
| Sensor: | 256 pixels CMOS |
| Standards: | DIN 5033-7, ISO 7724-1 etc. |
| Indices: | 29 indices, 26 types of lighting |
| Wavelengths: | 400-700 nm |
| Δ Wavelength: | 10 nm |
| Accuracy: | 0,01 |
| Repeatability: | dE*ab <0.02 |
| Lighting: | LED, UV incl. |
| Aperture: | 1.3/4/8 mm |
| Reflection range: | 0-200 %. |
| Calibration: | automatic |
| Camera: | included |
| Measuring time: | 1 s |
| Screen: | Colour screen, 2.4". |
| Program language: | English |
| Connections: | Bluetooth, USB |
| Battery: | sufficient for 8000 measurements |
| Software: | for Android, IOS, Windows |
| Storage: | APP or PC |
---
Portable Spectrophotometer CS-580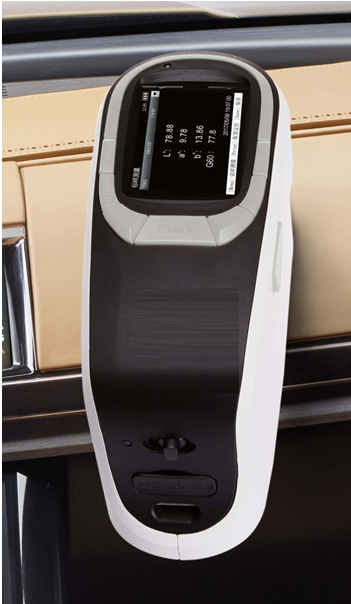 Technical Data
| | |
| --- | --- |
| Measuring principle: | D/8, SCI/SCE (diffuse illumination, 8° spectral illumination included), sphere diameter 40 mm |
| Measuring angle: | 2°, 10 |
| Sensor: | 256 pixels CMOS |
| Standards: | DIN 5033-7, ISO 7724-1 etc. |
| Indices: | 29 indices, 26 types of lighting |
| Wavelengths: | 400-700 nm |
| Δ Wavelength: | 10 nm |
| Accuracy: | 0,01 |
| Repeatability: | dE*ab <0.02 |
| Lighting: | LED, UV incl. |
| Aperture: | 1.3/4/8 mm |
| Reflection range: | 0-200 %. |
| Calibration: | automatic |
| Camera: | included |
| Measuring time: | 1 s |
| Screen: | Colour screen, 2.4". |
| Program language: | English |
| Connections: | Bluetooth, USB |
| Battery: | sufficient for 8000 measurements |
| Software: | for Android, IOS, Windows |
| Storage: | APP or PC |
---
Spectral-Colorimeter CS-288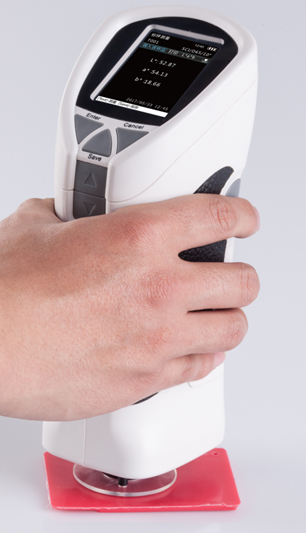 Technical Data
| | |
| --- | --- |
| Measuring principle: | D/8, SCI (diffuse lighting, 8° incl.), sphere diameter 40 mm |
| Measuring angle: | 2°, 10 |
| Sensor: | 256 pixels CMOS |
| Standards: | DIN 5033-7, ISO 7724-1 etc. |
| Indices: | 22 indices, 25 types of lighting |
| Wavelengths: | 400-700 nm |
| Repeatability: | dE*ab <0.08 |
| Lighting: | LED |
| Aperture: | 11 mm, optionally 4, 6 or 15 mm |
| Calibration: | automatic |
| Camera: | included |
| Measuring time: | 2 s |
| Screen: | b/w |
| Program language: | English |
| Connections: | Bluetooth, USB |
| Battery: | enough for 20000 measurements |
| Accessories: | Software, USB cable |
| Weight: | 550 g |
---
ColormeterPro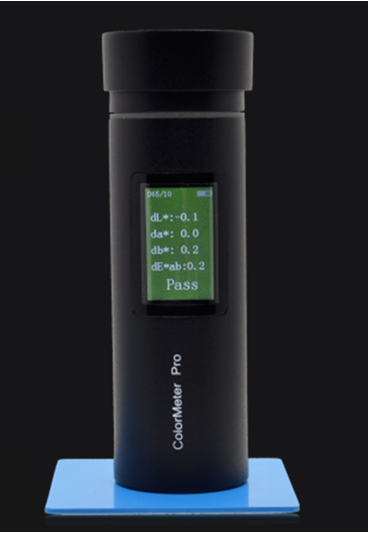 This unique product based on 26 international patents combines the performance of a colorimeter with that of a spectrophotometer.
Weighing only 90 g and powered by a rechargeable battery, the portable device shows the measured values directly on a small display, but can also store, display and evaluate the values via Bluetooth into the app on a smartphone or tablet.
The times of heavy sample cards are over. It is the ideal product for measuring high-precision colour values anywhere and evaluating them immediately.
Technical Data
| | |
| --- | --- |
| Measurements: | Colorimetry/Spectrophotometry |
| Geometry: | D/8, SCI |
| Standards: | ASTM E313-00/73, ASTM D1925 |
| Indices: | 20 indices, 26 lighting types |
| Measuring surface: | 8 mm diameter |
| Measuring time: | 1 s |
| Repeatability: | dE*ab <0.1 |
| Wavelength: | 400 - 700 nm |
| Δ Wavelength: | 10 nm |
| Calibration: | Autocalibration |
| Lamp: | LED |
| Language: | English |
| Screen: | Colourscreen 1,14". |
| Software: | with Android, IOS, Windows App |
| Battery: | 4,2 V, enough for 10000 tests |
| Size: | H=102 mm, D= 31 mm |
| Weight: | 90 g |
---
ColorMeter Pro- Innovative color measuring tool connected to your phone